Hey, it looks like you're new here! You may want to subscribe to the Stogie'd RSS feed. We're also starting a newsletter soon, and we're taking advance subscribers. Please email us to get on the list. Thanks for visiting!
Yep, you read that right. I admit I never heard of this Dog Walker stick. But after seeing the Smoking Hot Cigar Chick's take on it, I think I might have to find it for myself. And maybe even review it. You know, to compare notes with the SHCC. Who wouldn't want to compare notes with her?
In all seriousness, though, here's an excerpt of how she described it at YouTube:
Kurt Kendall's 7-20-4 brand is a name that has been rejuvenated from R.G. Sullivan's famed building on 724 Elm Street in Manchester, N.H. which began in 1874. R.G. Sullivan's building was one of the largest cigar manufacturers in the world. After the Cuban Embargo in 1963, the name became a piece of history. That is until now. …

In this video I am enjoying the "Dog Walker"- a great little petite corona with a lot of flavor. The blend in this size makes this a bold little smoke! The blend includes tobaccos from Nicaragua, Honduras, Mexico, Costa Rica, Columbia, and has a Brazilian Mata Fina wrapper
And here's the video review: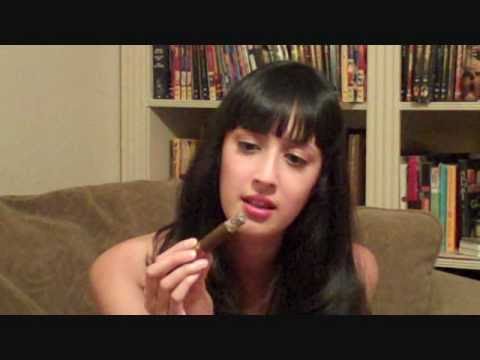 Impressive … the cigar, I mean. And without a doubt … she is, too; both in her knowledge and her on-camera presentation skills. All I need to do is buy her a digital recorder and a lavalier mic, and show her how to match audio and video tracks in post-production … she'd really be all set at that point.
Related Stories: